Papa Louie When Pizzas Attack
Ratings:
2
(average
5
from
5
)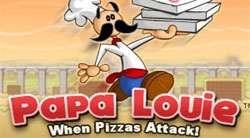 PLAY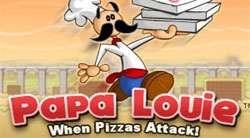 In Papa Louie When Pizzas Attack, you'll have to help a famous chef fight against pizza. Papa Louie is an excellent cook, so his food is always exquisite and incredibly tasty. The Italian culinary school allowed the main character to thoroughly study all pizza recipes. After many years of experience, he settled on one recipe that he had never dared to cook before. So, the day came when a pizza was baked in the kitchen according to a new recipe. Suddenly, when the Restaurateur came to see how the pizza was made, he realized that it was not there. A little later, it turned out that the yummy turned into a monster and came to life. Now it has spread throughout the city and scares people. You will need to quickly travel to the urban area to neutralize the living food that scares people.
How to play?
To begin with, we will inform you that it is not necessary to download the game, since it does not have a flash player and you can play it online. Press the start button and after that you will find yourself on the street, where the main events will take place. On the street you will find not only your favorite Italian dish, but also an onion that is clearly hostile to you. You have grenades in your hands, a well-developed jump, so you have to cope with all the difficulties. During the walk, be sure to collect gold coins, which you will definitely need to enrich yourself. Useful data on the number of lives will appear on the screen, as well as statistics on the collected gold.
Controls:
Keyboard arrows - move
Spacebar - jump
Z - grenade
X - Pepper (ranged) attack