Papa Louie Night Hunt
Ratings:
1
(average
5
from
5
)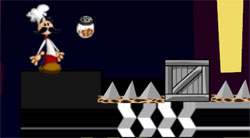 PLAY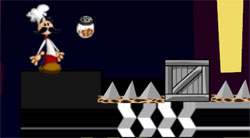 Papa Louie Night Hunt is a very rare mod of the popular game series, where the famous restaurateur Papa Louie will be in the main roles. One warm night you got bored and went on a night hunt. Out there are a lot of scary monsters that are clearly hostile to you. Your task is to do everything to destroy them. To do this, you have several types of weapons. These are a pepper grenade, as well as the ability to hit hard with a hammer. Your main task is to collect as many gold coins as possible. There will be various crates along your path that you can smash with your hammer. These boxes are essentially impassable barriers, so if you don't break them, you won't be able to go any further. The screen will show you statistics on how many attempts you have left to repeat this mission. 
How to play?
This is a regular wanderer, so you'll have to walk a lot. In addition to gold coins, it's also important for you to collect diamonds that are scattered all over the area. There are many challenging areas on your path where you will need to use ladders. Climb up these ladders to go further. Also, sometimes the ladders will require you to climb down, so be as careful as possible. Be vigilant, because enemy can wait for you anywhere, so try to destroy him when you have such an opportunity.
Controls:
Arrows - walk
Z - bomb
X - hammer