Papa Louie 3 When Sundaes Attack
Ratings:
17
(average
3.5
from
5
)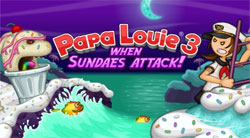 PLAY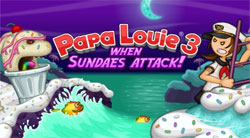 Great job Papa Louie, because he is ready to do business in any weather. Whether it's hot summer, cold winter, blooming spring or rainy autumn. Papa Louie loves to experiment with food. He is ready to cook various dishes according to completely different recipes. This time, he learned the mysterious ice cream recipe. The dish turned out to be very cold, that it started to snow outside the window, and it became cold. It's unbelievable, but that's exactly what happened. Go outside, okay with that ice cream, but the pizza is all scattered around the street, and there are already orders for it. You will need to collect it outside. Please note that various monsters that walk the streets will interfere with picking it up. Here is a version without a flash player, so we can say that the game is unlocked.
How to play?
In order to start playing Papa Louie 3: When Sundaes Attack online, you need to click on the start button. After that, you will see a list of levels that you need to complete. Choose the first one and start your journey for delicious pizza. Enemies will constantly attack you, including ice cream, so use kitchen items to protect yourself from enemies. On the street, you can pick up a grenade, which you will later use against enemy forces or in order to break concrete structures.
Controls:
Arrows - move
Z - attack
X - Throw grenade