Papa's Mocharia
Ratings:
72
(average
2.2
from
5
)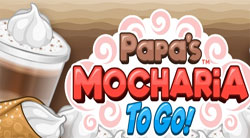 PLAY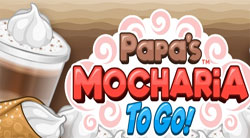 One of the city's best businessmen is Papa Louie. He has already opened dozens of cool cafes, but he does not stop there and decided to open another establishment that specializes in making coffee, cocoa, hot chocolate, latte, cappuccino, mocha and other coffee and milk drinks. You start your game at the establishment on opening day. Papa Louie is recruiting housekeeping staff, so you gladly accepted the job. Your task is to take customer orders and then fulfill them as efficiently as possible. This will allow you to earn not only real payment for the goods, but also to receive good tips.
How to play?
Everything is very simple, the main thing is your desire to work in this area. To get started, you will need to choose who to play as, there are several characters to choose from. After that, you will need to decide which drink you will specialize in. The more accurately you can complete the order, the higher the rating you will receive from visitors. In addition to drinks, people will also order sweets in the form of croissants, cakes, pies and other sweet snacks.
Popular questions:
Do I need to download the game to my computer?
No, you can play online without downloading, just click on the start button and play Papa's Mocharia in your browser.