Melon Playground Skibidi Toilet
Ratings:
3
(average
4
from
5
)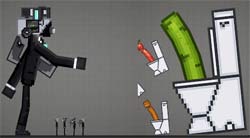 PLAY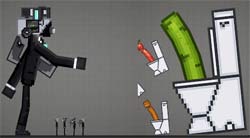 Melon Playground Skibidi Toilet is a popular game played by tens of thousands of people from all over the world. You in this game will have to spend a very interesting time together with the main character Skibidi. If you have forgotten, we hasten to remind you that Skibidi is a famous performer of the song Dop Dop Yes Yes. On YouTube even appeared channel on which there are 48 interesting series about Skibidi. In this game was combined at once two genres of games, Toilet Man and the famous mock mannequin - Melon Playground. If before you had to conduct experiments on a regular mannequin, then in this game as a mannequin will be Skibidi. Outwardly he looks very strange and even funny. This is a man whose head is sticking out of the toilet. Such a mod will definitely interest a large audience, so we advise you to play yourself and invite friends.
How to play?
You will have a great opportunity to play this game in online mode. It does not need to download to your computer, so start the gameplay right now. In order to bully the dummy you will have many different tools that you can use. There are different types of weapons, namely pistol, machine gun, flamethrower and much more. Also you will find in this mod hammer, axe, brick, concrete block and much more. There are two modes in the game: on pass and free mode.