Scratchin Melodii Demo
Ratings:
18
(average
4.5
from
5
)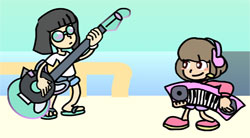 PLAY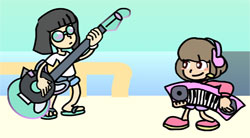 A very interesting new game Scratchin Melodii Demo in which you will need to sing a lot of songs. According to the plot, it all starts with the fact that you play a young DJ who is passionate about music. It so happened that he painted graffiti on the walls and he was caught doing this. Now, in order to get out to freedom, you will need to perform a few songs. In fact, in this way, you will pay the debt for your serious crimes. Specifically, in this demo, you will fight against Nami. Your opponent will be very difficult, so in order to pass it you will need to very skillfully perform the compositions that you will compose before that. This game was released in 2022, so many people have not played it yet, and you have a chance to become the best DJ who composes cool music.
How to play?
A fun game in which you'll have to pay off your debt by writing cool songs. You're doing this because you were caught painting graffiti on the walls. During the gameplay, you will need to carefully observe the line that is located at the top. There will be letters and arrows that you need to press in order for the song to sound as good as possible and to hit the beat. Also keep an eye on the movement of the main characters, which are located at the bottom of the screen.
Controls:
Arrows and A, S, D, W - sing songs