Scratchin Melodii Full Game
Ratings:
2
(average
5
from
5
)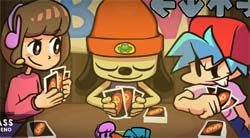 PLAY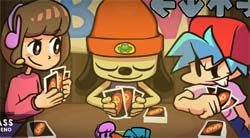 Teenagers very often want to draw attention to themselves, so they often commit even illegal actions. The protagonist of this game is clearly no exception, so he often draws graffiti in the yards. Once he was caught by the police for what he drew graffiti on the wall. You are certainly upset by this situation, so you think about getting away from those evil police officers. In order to redeem yourself and not pay a heavy fine for the offense you have committed, you will need to sing a song. Given that you are a DJ, then for you it is quite easily achievable and even a joy. You should clearly understand that the quality of the song is very important, so you have to try. In order to perform the musical composition you will need to click on the arrows on the keyboard, as well as the right letters on the keyboard. If you do everything correctly, you will definitely be able to get to the right rhythm of the track.
How to play?
Playing this game is very easy, so you will definitely be able to cope with the challenges. You have Scratchin Melodii Full Game in front of you, so all the songs are open here, and there is a choice of difficulty level. This game differs from Freiday Night Fankin by the fact that during the singing songs you will need to click not on the arrow keys, but on the colored buttons. In the main roles here will also be a girl named Melody. In the last level you'll have on the stage to fight with a clown. He is the strongest performer of songs.