Toca Boca Character Creator
Ratings:
2
(average
5
from
5
)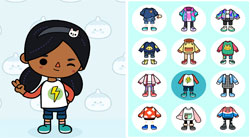 PLAY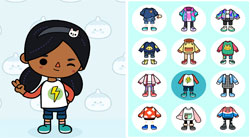 Toca Boca is one of the most loved and popular games among kids lately. The main roles here are children who learn about the world. It can be going to school, a beauty salon, cooking in the kitchen and much more. If you play the original game Toca Life World, then there, before you start playing, you need to create a character. This process is very interesting, so a separate game was even created, which is in front of you, where you will create your own hero. If you are a creative person and you have a lot of interesting ideas in appearance, then you will definitely like this game. You will definitely need to give a name to your character so that his friends understand how to refer to him. At the end, when everything is ready, you can save a picture to your desktop and make an avatar out of it that can be used on social networks.
How to play?
First of all, we hasten to inform you that it will be extremely interesting to play, because all of you know very well the cool educational game Toca. In order for the boy or girl you create to look aesthetically beautiful, you need to work hard. First of all, start with the color of the skin, there are all possible options. Next, you will need to choose a beautiful hairstyle. The next stage is the choice of fashionable clothes, there are many different options. Next - the face, eyes, nose, and ultimately pick up comfortable and bright shoes. Do not forget the accessories, they are presented in the editor in large quantities.