Five Nights In Anime 2
Ratings:
5
(average
4.4
from
5
)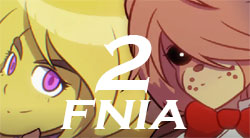 PLAY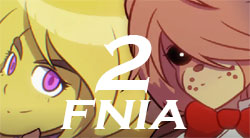 Here is the game Five Nights In Anime 2, which is a continuation of the famous game about how you will need to stay 5 days under the onslaught of horror girls. By and large, they are an alternative to the very animatronics that you fought earlier. You will need to be careful that these girls suddenly start singing loudly at night, because this will obviously scare you a lot, so you cannot allow this. You will play as a security guard who guards the concert hall. It will be possible to play FNIA 2 online and for free, because it is not necessary to download the game to a computer. In order to track the movement of enemy forces around the building, the game has special surveillance cameras. There are quite a few of these cameras, so every room will have the opportunity to watch what is happening there.
How to play?
Given that Five Nights In Anime 2 is unlocked, you can start playing right away without downloading to your computer. Therefore, you must first press the start button. After that, you go to a special room, from where you will observe what is happening. Keep in mind that your main task is not to catch the eye of singing girls. Happy gaming!