UCN Jumpscare Simulator
Ratings:
5
(average
4.8
from
5
)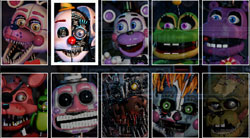 PLAY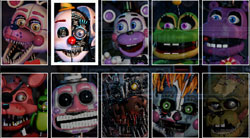 UCN Jumpscare Simulator is a real horror game in which you will have to get to know all the animatronics that only exist in the Five Nights at Freddy's series of games. Absolutely all the antagonists that are only in the famous FNAF game are gathered in one collection. The essence of the game is that you will need to watch how the heroes of the famous game will scare you. There is a large list of favorite heroes from which you can choose who will try to scare you now. The list includes heroes from FNAF 1, 2, 3, 4, 5 and 6, as well as 5 nights with Candy and Ultimate Custom Night as a bonus. We want to tell you right away that the screamers will be very scary, so if you are not ready for such a psychological load, then it's better not to play, but if you adore such an atmosphere, then go ahead.
How to play?
To begin with, we want to inform you that there are three buttons in the main menu. First of all, we are talking about the start buttons, options and extras. The first button is clear, because this is to start the gameplay. As for the options button, it will be possible to change the background on which the main events will take place, the volume of sounds, as well as other settings that can significantly improve the atmosphere. So, we move gradually to our favorite animatronics closer to the gameplay. In this large list of robots, you will need to click on the one you like the most. After choosing, he will try to show himself as much as possible, shouting scary sounds in front of you, from which you can be scared. Try to do the same with the rest of the heroes, and see which one is the scariest.