FNAF 4
Ratings:
6
(average
4.3
from
5
)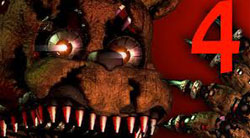 PLAY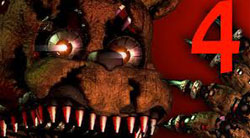 FNAF 4 online is a great opportunity to play the famous horror game without downloading it to your computer. This is already the fourth official part of the famous game Five Nights at Freddy's 4, so you have probably already played the previous three parts. Your task will be to hold out for 5 nights under the onslaught of enemy forces. There will also be three bonus nights in the game, but they are initially closed. In fact, they will open only after you complete all the tasks assigned to you. There will be no CCTV cameras in this game, they were removed according to the story, so the entire gameplay will be in one room. This room is filled with various scary adventures, so you will need to turn on your mindfulness. This time, the animatronics have been upgraded a bit and turned into nightmares. Their peculiarity is that they have more teeth and are very powerful. Their roles will be played as before: Freddie, Chicky, Bonnie and Foxy. If in the previous three parts of the famous game you played as Mike Schmidt, now you will play as a crying baby. He partially appeared in the third part.
How to play?
FNAF 4 is unblocked so you can play it in your browser without downloading it to your computer. In order to start playing, you will need to click on the start button. After that, you enter a large room. If you look closely, there is a Freddy teddy bear on the couch. He looks creepy, so try not to be too nervous. Press the buttons, open the doors, but always be on the lookout, because the danger may be waiting for you from where you do not expect it. As soon as you see an enemy, immediately turn on the flashlight to scare him away.
Controls:
Mouse - turn on the flashlight.
Ctrl key - close doors.
Controls in the mini game:
WASD keys - go.
Ctrl key - turn on the flashlight.
Key "X" - use the bonus of two hours.