FNAF 9
Ratings:
5
(average
4.2
from
5
)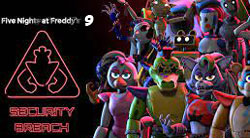 PLAY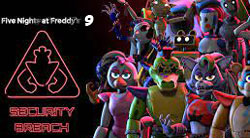 Playing games starring Freddy is a bold move as this is a horror genre where the animatronics have come for you. In the game Fnaf 9 you have to play as the most important animatronic - Freddy. Here he finally ceased to be an evil antagonist. Another main character you will play as is a boy named Gregory. If in the previous parts you fought very actively against him, playing as a pizzeria security guard, then here Fazbear finally switched to the bright side. The main events will develop not in a pizzeria, but in a large shopping center. It even has a name, and it's called pizzaflex. In order to observe the movement of enemies, you will have the opportunity to observe in the surveillance cameras. There are many new animatronics in the game that no one knew before, namely: HandUnit, Montgomery Gator, Daycare Attendant, Roxanne Wolf, DJ Music Man, Burntrap and The Blob.
How to play?
In the game Five Nights at Freddy's: Security Breach you will need to help the main character do everything to successfully hold out as long as possible in a large shopping center. Throughout the gameplay you will need to perform various tasks. It can be collecting pizza in very difficult and scary places, escaping from antagonists and much more. In fact, your main task is simply to survive, and it will be extremely difficult to do this. Enlisting the support of Freddy, it will be much easier for you to win, because he is an animatronic with a lot of experience.
What devices can you play on?
You can play this game mainly on computer without download, but also on mobile phone (Android/iOS).
Controls:
Mouse - review, shot and aim
Arrow keys on the keyboard - move
Mouse wheel - change weapons
F - take item, open door
Shift - run
C - duck down
Spacebar - jump
Ctrl - down