FNAF Killer In Purple 2
Ratings:
3
(average
5
from
5
)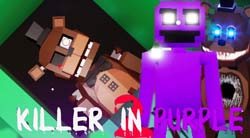 PLAY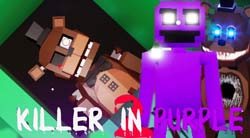 FNAF Killer in Purple 2 is a new mod in the genre of chorus where in the main roles will again be present evil animatronics. The main events will again take place in a pizzeria. In this institution has already been many parts of the game on the theme of Five Nights at Freddy's. If in the earlier parts of similar games you played for the guard who works in the pizzeria. You had to do everything to save yourself from animatronics that are rumored to come at night in the pizzeria and live there. In this part you will have to play as a negative character. Your task is to sneak into the pizzeria and destroy or at least scare all the visitors of the institution. It is also very important to track the movement of animatronics. There are a lot of them: Chica, Bonnie, Freddy, Foxy, and many others. During the gameplay you will have to be in creepy conditions where there is darkness all around. Perform various buildings of varying complexity.
How to play?
The gameplay of this creepy game is very simple. You will need to get into the pizzeria and start there to establish their order. Try to carefully find the room where the animatronics live. There are a lot of them there, so you will not have to walk around the area for a long time looking for antagonists. There will be locked doors around, and there are keys scattered everywhere that you need to find to get into the locked rooms.  Keep in mind that Freddy Fazbear's Pizza is a very mysterious restaurant, so be on your guard at all times.
Controls:
Mouse - action
Arrows - walk