FNAF 1
Ratings:
13
(average
4.7
from
5
)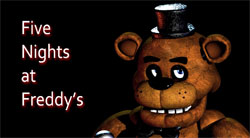 PLAY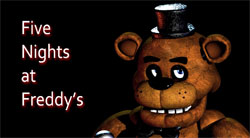 Five Nights at Freddy's is such a scary game that not everyone will be able to play it, but if you are here, then you probably decided to try it. We want to say right away that you have to face darkness, creepy sounds, as well as a frightening atmosphere. According to the plot, the main events of the game will take place in a pizzeria. It so happened that during the day children play in this institution and fun holidays are held. Few people know what happens here at night. Let me tell you a secret that the guard who works here is in big trouble at night. The animatronics wake up walking around the pizzeria and want to scare the local security guard to death.
The addictive FNAF 1 game starts with your boss calling you and giving you a job as a security guard. He immediately stipulates that someone is wandering in the building, so it is important to be as careful as possible and not to catch their eye. Keep in mind that he is not lying, because really animatronics can come to your workplace. In order to control their movements around the cafe, CCTV cameras were equipped, with which you can easily track all the movements of enemies.
How to play?
If you suddenly notice that something has changed while viewing one of the cameras in Five Nights at Freddy's for free, you can sound the alarm. As soon as you see one of the animatronics, then immediately turn on the light. The switches are located to the right and left of you, so if something happens, use them immediately. It is also possible to block the doors so that no one gets through to you. It is important to monitor the performance of a running generator. It can be seen on the screen, make sure it is not empty.
The game is designed in such a way that you need to survive 5 nights, although it will not be easy. First of all, in FNAF 1 play, it matters whether you can withstand such a creepy atmosphere that the antagonists of the local game decided to give you. Speaking by name, there is a large company of enemies, namely: Freddy, Bonnie, Chica, Golden Freddy and Foxy.