FNAF Killer in Purple Remastered
Ratings:
4
(average
4
from
5
)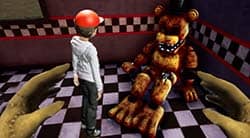 PLAY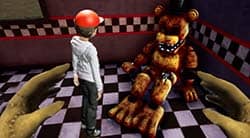 FNAF Killer In Purple Remastered is an updated and improved fan version of the very famous FNAF theme game. The whole game is made in purple color and this is probably one of the main features of this beautiful horror game.  In the main role of this exciting game will be the same William Afton. The plot of this game is unusual, because now you will play as a negative hero. That is, you penetrate the pizzeria will try to destroy as many visitors as possible. The fact that all the people and animatronics institution trust the main character, so ready in case of need to go with him anywhere. This naivety takes advantage of William Afton and uses it to his advantage. Keep in mind that you need to act as carefully and skillfully as possible, so any mistake for you can be fatal. For all successful actions you will be awarded coins. They can be used to improve the character.
How to play?
The gameplay of this game is quite clear and simple. You will need to move around the pizzeria Freddy Fazbear where all the main actions will take place. During the gameplay you will meet on your way all animatronics, namely: Freddy, Chica, Foxy, Bonnie and other new ones. Here are also present video cameras on which you will be able to track all the movements of antagonists. This will definitely help you better navigate in the pizzeria. In all the games of the Five Nights at Freddy's series you will need to pay attention to the little things on the sides in order to eventually win the game.
Controls:
Mouse - action
Arrows - movement