Five Nights at Talking Ben
Ratings:
5
(average
4.2
from
5
)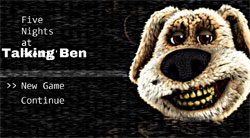 PLAY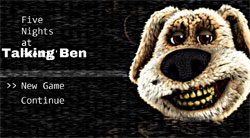 There have already been many games on the topic where you need to hold out for 5 nights so that you are not destroyed by the antagonist during this time. Most often you confronted the animatronics, and you had to play as a pizzeria security guard. Everything is completely different here, because you will run away from that same talking dog named Ben. According to the plot, this pet is a retired chemistry professor, so now he has a lot of time, and he tries to spend it with great pleasure. It will be very difficult, but you need to do everything in order to survive the whole 5 dark nights, during which you will be rapidly attacked.
How to play?
In order for you to start playing, you will need to select the first night and after that you will move to a large building where you will also have other characters from whom you will hide. In order to track the movement of these beloved pets, the game developers have created the ability to watch them through CCTV cameras. In addition to Ben, you can also meet his friends and girlfriends there, such as Tom or Angela.