Poppy Playtime Chapter 2
Ratings:
6
(average
4.3
from
5
)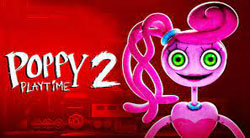 PLAY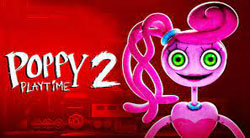 The long awaited Chapter 2 of Poppy Playtime online is here and it's finally available and you can now play it for free. Everyone really liked the first part of this game, so it is not surprising that the developers decided to create another part. Actions will again develop in an abandoned toy factory. According to the plot, they never found out why all the people disappeared from there, although they used to work there, and it was 10 years ago. There are definitely a lot of living toys waiting for you here, so get ready, because you will have to deal with them somehow, because no one knows what to expect from them. It all starts with you freeing Poppy. True, as soon as you started to get out of the factory, she was kidnapped again. This time, Mommy Long Legs was involved in this kidnapping, and we can say that this toy appeared in the second part. Also, you will have problems with the red and green palm that you had.
How to play?
To get started, you will be prompted to choose one of two modes. There is an aggressive mode where you will use weapons to solve all your problems, and there is a mode where you will have to do everything to leave the toy factory. Try to help the main character deal with all the antagonist toys that will suddenly attack you. During the passage, you will have to turn on the logic, because you will definitely have to think about some puzzles. The Huggy Wuggy and Bunzo Bunny toy will also be in this game, but much less frequently compared to the first part. During the passage, you will collect various useful items that can later be used to facilitate the passage of the gameplay. Good luck! You can play this mod on your computer, phone and tablet.
Controls:
Arrow keys - move
Mouse - overview
F - interact
G - throw a grenade
T - get out of cover
X - duck down