Scary Teacher Halloween
Ratings:
1
(average
5
from
5
)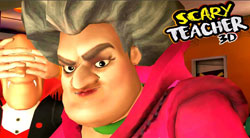 PLAY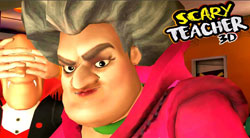 All horror fans really liked the famous Scary Teacher game, so the developers began releasing mods on this topic. One of them is in front of you and it's called Scary Teacher's Halloween. According to the plot, you will need to help a little girl get into the house of a teacher who has recently moved to the same street where the main character lives. To be more precise, the main character is a little girl who goes to school. A little girl sharpens her teeth on the sly at Miss T for beating and humiliating her at school. Your task is to get into her mansion, consisting of 15 rooms, and restore order there. Yes, put things in order so as to annoy the evil teacher as much as possible. As you understand, events will take place on Halloween.
How to play?
To get started, click on the start button. After that, the first task will appear in front of you, which you will need to complete. Of course, you will need to bravely complete all the missions, otherwise you will definitely lose. As soon as you notice Miss T next to you, then immediately run away from her, because if she catches up with you, she will definitely punish you, as she did at school with all the students.