FNF vs Grimace Shake
Ratings:
1
(average
5
from
5
)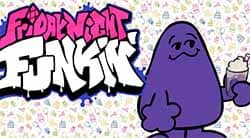 PLAY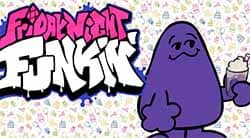 FNF vs Grimace Shake is a new exciting mod on the theme Friday Night Funkin in which you will have to fight on stage with a mascot from McDonald's. This very beautiful and cheerful creature of purple color holds in his hands a milk shake. You are already a very experienced singer, so most likely you will be able to fight effectively against any opponent. You will be playing as Boyfriend. This guy has already defeated many on the battle scene. It turns out that in addition to Grimace Shake is able to treat everyone to a milkshake, so he can also sing songs. Not everyone is blessed with such talents, so we can only marvel at this creature. McDonald's is the best fast food restaurant in the world, so it will be interesting for you to fight against the best mascot from this restaurant.
How to play?
The gameplay of this game is absolutely identical to the other mods in the Friday Night Funkin series. You will need to press the arrows on the keyboard to hit the beat of the song that sounds on the stage. The song that you will sing is called GrimShaker. It is very fun, so the mood of the participants of the battle will be good. The game has the ability to choose the level of difficulty of the battle. You should also realize that there is vohmozhnosti choice of mode: on the passage or free play mode. Good luck, you will definitely be able to win!