FNF Online
Ratings:
3
(average
3.7
from
5
)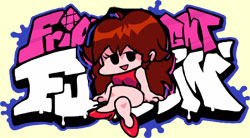 PLAY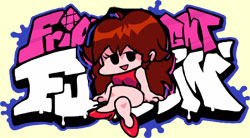 Friday Night Funkin is a breakthrough in the music genre gaming industry. The Internet has not seen such popularity for a long time. Anyone who loves music will definitely enjoy this wonderful game. If you can get a sense of rhythm, and you have enough musical ability, then you will definitely be able to hit the beat when playing tracks. The songs that you will perform are very groovy and energetic, so if you are ready to spend your strength on them, then welcome to the battle where you will fight against various opponents. It is very simple to play, so it is not necessary to undergo training as such - the main thing is your desire to win. It will be most convenient to play FNF on a computer, because during the gameplay you will need to press the keyboard arrows. As the track is playing, colored arrows will appear at the bottom of the screen. When they get to their destination, you need to have time to click on them. If you succeed, then you will definitely fall into the rhythm of the song. According to the plot, in the very first original part, you will need to help the Boyfriend win the heart of the Girlfriend. This will be prevented by a strict father, who is a former rocker. He will let only one who can prove in the musical craft that he is a worthy guy to his daughter.
FNF unblocked
In order not to search all over the Internet for the latest version of the game, it's easier to go to ogamesplay.com, because we follow all the updates. Initially, there were many initial versions of the game, but in order not to get confused, we follow the latest trends and update the game. We want to tell you right away that this is the same official version of FNF that is unblocked, so you don't need to open all the characters initially. That is, we can say with confidence that a full week is available to you in the game with all the performers who will be the rivals of Boyfriend. In order for you to have an idea of ​​who exactly will oppose you, we will write you at the bottom of the list in turn:
Friday Night Funkin Week 1 is the very first battle where Boyfriend will try to defeat Girlfriend's father.
Friday Night Funkin Week 2 - Scary freaks Skid and Pump have made it to GF's house, so you need to help her kick them out and outplay them in battle.
Friday Night Funkin Week 3 has a lot of weird characters, and a kid named Pico takes pride of place on this list. Show him that you are better at music.
Friday Night Funkin Week 4 - If you really want to show fearlessness, then why not take on Mommy Mearest. She enlisted the support of the dancing devils.
Friday Night Funkin Week 5 is one of the most mysterious days when you will be performing tracks at a special winter holiday.
Friday Night Funkin Week 6 - Finally, you have to fight against a strong opponent from the anime world named Senpai. Show him who's really in charge!
Friday Night Funkin Week 7 is the hardest day ever, and that's definitely because the atmosphere is really awful, and you have a Tanker in front of you.
FNF online
This is very convenient when you need to download not a game, but a computer. The web version is definitely compatible with any browser, so you can start playing right away. Also, on our site there are many other mods that you can play by choosing the right game. The game has 2 modes: training mode and passing. If you choose the first, then you are not responsible for the result. If you choose a game to play through, it is important to responsibly approach the performance of all songs.
FNF Free
The game is free from the very first day of its existence, that is, there is no place where you need to purchase this game product. The code for the simple simulator is on GitHub. It just means that any coder will be able to modify this game if they want, of course. Most importantly, Friday Night Funkin is completely legal, freely available on any of the sites on the Internet. Developers earn not on sales, but on donations, and this suits them perfectly. If you want, you can easily create your own mod if you have programming skills.
Controls:
arrows - sing songs
+- - volume
enter - input