FNF Baddies
Ratings:
3
(average
4.3
from
5
)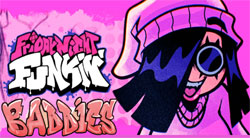 PLAY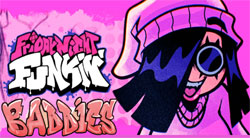 There is an exciting Friday Night Funkin Baddies mod where you will have to fight again as part of a musical battle with interesting opponents. This game is very similar to the old days, because it is fraught with many characters known to us. It is important to understand that you will play as Boyfriend again, so you already have good experience in battles with interesting opponents. As rivals, you will need to fight three musicians. To win, a good reaction and speed of action with your fingers is important.
In the first week you will be singing songs against an interesting singer named Stephanie. The songs you will be singing are called Encounter, Insane, Uhoh and Drift.
The second week will be more difficult because your opponent will be Cassette Girl. Together with her you will try to compete under the songs: Kagayaku Kassetto, Donnie Soft and Malfunction.
The third week will be marked by the appearance of a completely new soloist in front of you, and her name is Jasmine. Songs you will sing: Preplay, Aye Papi and Xes.
How to play?
In terms of gameplay, everything will be very simple here, so choose your opponent and start the battle. FNF Baddies online is an interesting variation of the famous music game. During the musical confrontation, you will need to press the arrows on the keyboard in time and accurately. If you succeed, then you will become a successful musician. In the menu, you can completely change the difficulty level at which you play. I also want to draw your attention to the fact that the menu is very bright and colorful.
Controls:
Arrows - sing songs
+- - music volume
Enter - choice