FNF Character Test Playground 7
Ratings:
1
(average
5
from
5
)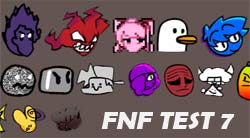 PLAY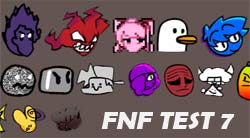 FNF Character Test Playground Remake 7 is another game in which you will have the opportunity to create any character in Friday Night Funkin and fight them in rap battles. You are required to be creative. There are a lot of variants of characters you can create. In the game you will be able to change anything, namely: background, body parts, clothes, accessories. A huge number of different characters will diversify your gameplay. In order to change the singer who will stand on the stage and sing songs, you need to go to the "char" section. In the game FNF Test 7 you will find more than 30 famous characters that you can choose. The most famous from the list are Bus, Lemons, Tankman, Monika and many others. Two categories of all the singers are divided conventionally into two parts: Official, and the second category - characters from the seventh part of the mod. If you click the Setting button, you can find many more settings there. Change the step speed of your hero from 0.5 to 1.75. It can be slow, or fast. The developers added 7 backgrounds, namely Menu, Road, Mall, City, Spook, Customizable Color and Stage. BG item has 3 color controls of blue, green and red.
How to play?
The game starts in that you get into the game menu. Then you will be able to choose which menu item to go to. When you click on the play button, you will immediately get to the stage. This is where all the musical action will take place. In the hands of your main character will be a microphone. Your main task is to do everything to get to the beat of the song that will play. The gameplay is very simple. On you will fall arrows from above in four directions: down, up, left, right. You need to press the right arrow on your keyboard in time.
What kind of characters are there?
Official:

Mod:

Developed By: MadManToss
Controls:
Mouse - use
Keyboard - sing songs