FNF Week 7
Ratings:
2
(average
5
from
5
)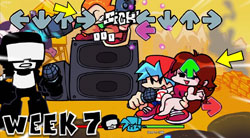 PLAY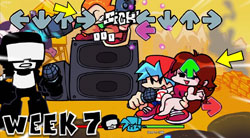 For a very long time everyone has been waiting for the release of a new game called Friday Night Funkin Week 7, and it looks like it has finally arrived. Previously, 6 weeks have already come out, during which Boyfriend fought with different opponents. In the last week, your opponent will be the legendary Tanker. Fighting him will be extremely difficult, but given that Boyfriend has a lot of experience, this will most likely help him win. This game has all the weeks, so choose the one you like best and start playing it. If you list the opponents that you will meet here, then by name they will be: Dear Daddy, Skid and Pump, Pico, Lemon Monster, Senpai and Thorn. The winner is the one who is better able to press the arrows on the keyboard.
FNF week 7 unblocked
The game is finally unblocked so you can play it right now, online and without downloading at all. In order to start playing, you will need to decide which of the two proposed modes you will play. Among other things, you will still need to figure out at what difficulty level you will have to fight opponents. When the musical battle itself is on, you will need to have time to press the arrows on the keyboard when the situation requires it.
Controls:
Arrows - sing songs
+- - volume