FNF VS Amanda The Adventurer
Ratings:
1
(average
5
from
5
)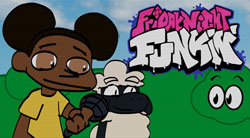 PLAY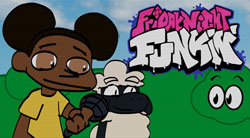 For people who love to play music-themed games are great Friday Night Funkin. On this page there is a game FNF VS Amanda The Adventurer online in which you will need to sing songs on stage against his opponent. You will play, as before for the legendary protagonist of this game by the name of Boyfriend. Watch what's happening, will be exactly the same cheerleader named GirlFriend. Oppose on the other side of the stage will be a girl named Amanda. She has previously participated in a horror story, so she has no musical background. That doesn't mean you should underestimate her. Perhaps her loyal sheep friend named Wooley will also be in the stands. There are some new songs in the game that you'll need to learn thoroughly so that you can skillfully win the music battle.
How to play?
To start playing you will need to choose a game mode. This can be a single-player game as well as a story mode. Also, choose the difficulty level at which you will go through the game. This can be an easy level, a medium level, as well as a difficult level. Choose any song to which the music battle will take place and then start the confrontation. In order to be successful in this game you will need to click on the keyboard arrows in time. Multicolored arrows will alternately appear on the screen. You need to have time to press the appropriate button on the keyboard. Make a decisive advantage against your opponent, because it will help you win.