FNF Garten of Banban
Ratings:
6
(average
4.3
from
5
)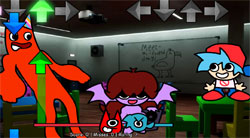 PLAY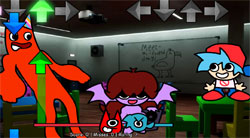 This game became very popular not so long ago, but already it has won millions of fans around the world. The name of this game is Garten of Banban and you have definitely already heard about it. Not so long ago the characters from this game appeared in the famous game Roblox. On this page we offer you to play FNF Garten of Banban online game. Friday Night Funkin series has been very popular for a long time and there are always famous characters that appear as the protagonists of this game. According to the plot in this game you will need to sing songs on the stage playing, and Boyfriend. Opposing you will be a red BanBan, as well as a green monster named Jumbo Josh, as well as other characters that are well known to fans. In general, this mod is a remix of Ourple. In the original game, the main events will take place in the kindergarten, where the colorful decorations in the form of cubes, as well as a lot of toys for children.
How to play?
This game is very easy to play. First, click on the start button and then you will need to choose a song to which you will conduct the battle. Also choose the level of difficulty, as well as an opponent who will oppose you. After that you get to the music scene, where you'll need to sing songs. To win you will need to click on the arrow keys. Do it accurately and on time and then you'll get to hit the beat of the song.