FNF vs Baldi's Basics
Ratings:
3
(average
5
from
5
)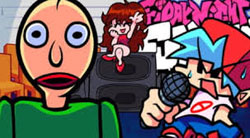 PLAY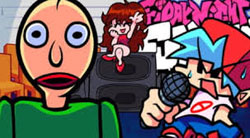 It is a great joy when new and interesting mods appear in the Friday Night Funkin family that you can play online without downloading to your computer. This time Baldi's Basics came to visit Boyfriend. This man is the main character of the horror game of the same name. The main goal of the game is that you need to run away from this math teacher. Throughout the school year, he specifically asked incorrect examples for which there is no correct answer. After that, he punished schoolchildren with a ruler, which the students at school did not like very much. It so happened that now Baldi found himself in the open spaces of the FNF world, and now he will be confronted by the legendary Boyfriend, who is the main character of the local game. It will be very interesting to see these two famous characters in a musical battle against each other.
How to play?
In order to start the confrontation, you will first need to choose the game mode in which you will play, and this can be a story or educational game. When you appear on the stage where you will need to sing songs, you are required to timely and accurately press the keyboard arrows that will fall from the top of the screen. They will be multi-colored, so it will be clearly visible when and which arrow you need to click. The songs that will play will definitely be new to you, so you will definitely have to adapt to them for a long time in order to look confident in battle.
Controls:
Keyboard arrows - sing songs
+- - volume