Happy Wheels
Ratings:
5
(average
3.6
from
5
)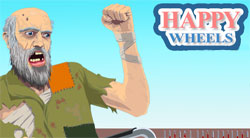 PLAY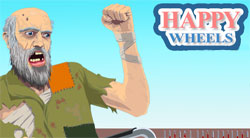 Before you is the Happy Wheels game, in which you will need to drive different types of vehicles in difficult relief locations. There are no goals as such in the game, but the physics of the game is done so well that you want to play without stopping. Keep in mind that the plot is bloody, because the main person's arms and legs will fly off. Vehicles will be smashed to rubble when hitting obstacles. Although this is a demo version, it is very large, which is easy to confuse with the full version of the Happy Wheels game, because there are a lot of levels. Thanks to the efforts of the fans of this beautiful game, it is finally unblocked so you can play it right now without downloading it to your computer. In fact, the original game was created back in 2008, but remains popular to this day. This is a serious argument that speaks about the quality of the gameplay. We can say that the creators of totaljerkface were inspired by the famous motorcycle race called Gravity Defied.
How to play?
Immediately you get to the game menu, where there will be several items that you can click on. Control, where you can find out which buttons to play Happy Wheels. Settings is where you can change some gameplay options. Play is already a transition to choosing the level at which you will enjoy the game. Once you've decided on the level you'll be playing on, you'll need to choose one of 3 characters. This is a grandfather in a wheelchair, a guy on a bike with a child on the trunk and a guy on a hoverboard. Then try to destroy your player you control as much as possible. Learning to play is not required, because everything is simple, because the control takes place on three buttons. If you wish, you can try to drive the entire distance without a single damage, although this will be extremely difficult to do. Good luck to you!
Controls:
Arrows - move
Spacebar - jump
Shift, Ctrl, Z - actions.