Among US Hide and Seek
Ratings:
9
(average
4.1
from
5
)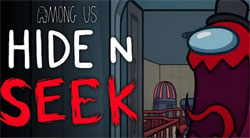 PLAY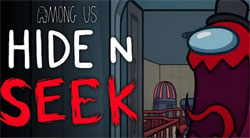 A wonderful game Among US Hide and Seek online in which you will need to help the crew members find the traitor. This game has become popular for a very long time, so it is not surprising that a lot of interesting mods have appeared on the theme of this space game. In the original game, you will need to play together with other players from all over the world. The main task is to let the spaceship find out who the traitor is. It can be absolutely anyone, so be careful and keep your eyes open. In hide and seek, you will need to carefully look for various objects, because it is behind them that the one you are looking for may turn out to be. Keep in mind that you need to act carefully, because if you make a mistake, you will lose.
How to play?
In order to start playing you will need to click on the start button. After that, you get on the spaceship, where all the active actions will take place. In each level you will need to find three crew members. Look carefully at all the objects that are installed in the cabin. These can be fans, cabinets, and other objects that you notice. The screen will display auxiliary data that you can use to complete the game.