Rainbow Friends Game
Ratings:
16
(average
4.1
from
5
)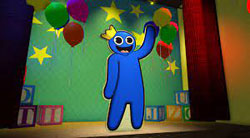 PLAY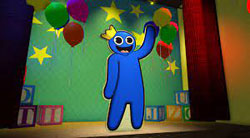 A very popular Rainbow Friends game in which you find yourself in an amusement park where you find yourself completely by accident. The fact is that you were kidnapped by a strange creature, and you moved to a park called Strange World. Your task is to return back to the world acceptable to you. To do this, you will need to survive 5 nights, which will be extremely difficult for you to survive. Real players from all over the world will play with you, so the gameplay will be even more interesting. All the characters you meet here are plush. The most beautiful and bright character will be named Red. Plush toys Pink and Yellow also look very nice.
How to play?
On the very first night, you will meet a character named Blue. in order to successfully complete the task with him, you will need to find 24 colored cubes. After you find them, you will need to put them in the theater. Blue will constantly chase you, so if you do not hide in a locker or somewhere else, then he can kill you. On the second night, you will have to face a new enemy. His name is Green, and he has an even greater danger. The essence of the task that you need to complete is to find 1 pack of food. It will be even more difficult to hide from two enemies. When the third night comes, you will have 2 new friends named: Orange and Purple. Know that the orange one needs to be constantly fed, and the purple man wanders in the ventilation hatch. The fourth night will be very difficult, because the lights will go out and you will need to find a flashlight in order to illuminate the area. To do this, find 9 more batteries for the backup battery. The fifth night of the Rainbow Friends online game is that the main characters arrange a party for you. All the heroes that you have ever seen in this wonderful game will take part there.
Controls:
Arrow keys - move
Spacebar - jump
Mouse - shot
V - drop item
M - exit to the menu