Bartender the Right Mix
Ratings:
1
(average
5
from
5
)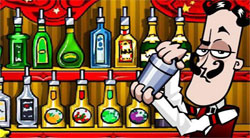 PLAY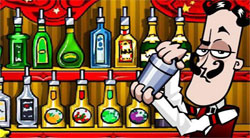 A wonderful Bartender the Right Mix game in which you will need to help Miguel prepare delicious alcoholic cocktails. Of course, everything is not as simple as it might seem at first glance. You will be a very fun bartender here, for the reason that you will experiment a lot. It was in a bar somewhere, probably on a Friday night. There are a lot of different alcohols on the shelves, for example: vodka, vermouth, gin, whiskey and other interesting drinks. In total, more than a dozen different bottles will be located on the shelves. You will need to take one of the bottles and pour a certain amount of liquid into the glass. After that, take another bottle and pour from there into the same glass. If you like, add more alcohol from other bottles if necessary.
How to play?
As we wrote above, you just need to take any bottle and just pour alcohol into a glass. After that, you will need to stir it all, and you will see what comes of it. Further, various additives can be added to the glass. Keep in mind that if you mix too much, Miguel might even explode, so don't overdo it with experiments. The graphics in the game are made in a cartoonish and funny style, so the gameplay will cheer you up. This game was recently unlocked because it was originally on a flash player. In order to play, you absolutely do not need a certificate that you have completed bartending courses, start right now.