Infiltrating the Airship
Ratings:
3
(average
5
from
5
)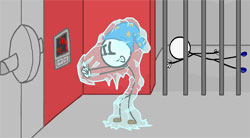 PLAY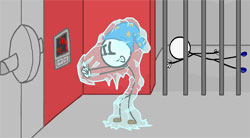 Henry Stickmin: Infiltrating the Airship game in which you will need to help the main character get on the airship and take control of it. This process will be very difficult, but the stickman is a very experienced person, so he will easily perform actions that others cannot do. He will not commit the crime himself, but together with his partner, so it is important to work together so that all actions are effective. On the way you will meet guard posts, as well as many other difficulties that you will have to think about how to get through. Some doors will be closed, so you will have to look for a code word to get through. Sometimes a guard will stand in your way, which you will have to bypass in every possible way. Some actions will be deliberately losing, so include logic to increase the chances of success.
How to play?
To get started, you just need to click on the start button. After that, you appear at the place where the stickmin will be drawn. Your task is to secretly get on the airship. This is very difficult to do, because you will be hindered by security, as well as various protective structures that will shed light on your secret plans. The game is built in such a way that everything is divided into separate locations, so always try to find the most correct solutions in order to lose as little time as possible to go through the whole story.