Cameraman Skibidi Toilet
Ratings:
5
(average
2.6
from
5
)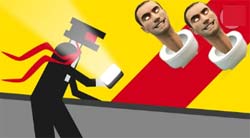 PLAY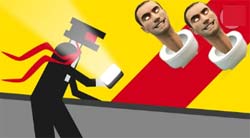 Recently, a YouTube series called Skibidi Toilet has become famous. There are already 48 episodes, which are gaining millions of views. This cartoon is watched from all over the world, because it is very funny and interesting. In the main roles of this wonderful cartoon will be heroes named Skibidi Toilet, as well as Cameraman. These two heroes take part in all the main roles. They are the ones who create an unforgettable atmosphere. In this game you will be helping Cameraman to fight on the street. This process is very interesting, but dangerous, because you can not only beat your enemies, but also get hit on the head yourself. Your protagonist is able to jump, kick and kick, as well as shoot with weapons. You will meet enemies on the street in the form of toilets. There will be a head sticking out of each toilet. There are many levels in the game, so you should realise that the further you get, the harder the level will be.
How to play?
The gameplay of Cameraman Skibidi Toilet is very simple. You will be controlling the main character, that is Cameraman. He will walk down the street with the aim of destroying as many enemies as possible. The process is difficult, but you will definitely cope, because you are armed, and also able to fight well. On the screen you will see the statistics of what is happening, so look at it carefully. In general, you look like an ordinary man, who has an average height, but instead of a head - a camera. The game can be played online, so it is very convenient.
Controls:
WASD - use
Space - jump
Z, X, C - kick