FNF Seek's Cool Deltarune
Ratings:
3
(average
5
from
5
)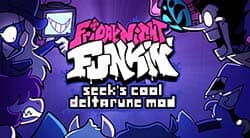 PLAY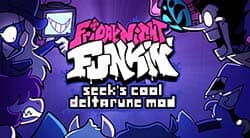 FNF Seek's Cool Deltarune is a great new online mod in which you will need to sing a variety of Undertale-themed songs. Friday Night Funkin has already had so many mods that it's hard to count the actual number. If in other mods most often in the main roles of this beautiful game was Boyfriend, then here will be exclusively the heroes of the famous game Deltarune. The creator of this dungeon game is the same - Toby Fox. In this fashion there are a lot of musical compositions that you will perform on the music stage. Rap battles with the heroes of the game Undertale will be very interesting, so sit back and start the battle. Each battle will take place according to the old principle: who will quickly and timely press the arrows on the keyboard - the one who will win in the end. We can say that this is the fifth version of the mod. Where at the moment there are 16 songs. The most famous song in this mod will be a song called - Hyperlink.
How to play? 
Features of this game are not different from other mods in which you have already played repeatedly. The main character of this game will be Spamton, and he will have to fight with well-known opponents: Susie, Ralsei and Kris. Further on in the scenario you will have to fight with stronger opponents, namely Gaster, Starwalker, LancerJevil or Thesperus. The atmosphere of this game is very closely related to the dungeon, so it will be very interesting to plunge into the familiar atmosphere. Next to the participants of the battle will be a very effective support group, which will support one side and the other.
Songs list:
In My Way - Chips Ahoyeth - Showstopping - Ragdoll Chaos - Smile Award - Hyperlink - Hyperlink Reloaded - All Stars - Goner - Boingo Doo - Astra Perambulis - Trashed - Clown Around Town- My Man - Lore - Proceed