Friday Night Funkin Neo
Ratings:
2
(average
5
from
5
)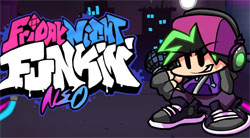 PLAY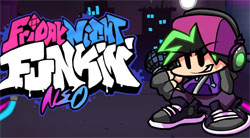 Welcome to the highly anticipated Friday Night Funkin Neo Mod game. This game has become very popular lately, so you will need to join this gaming musical direction. According to the plot, it all started with the fact that Boyfriend liked Girlfriend, but how to achieve her location is still a mystery. The fact is that the girl has a very strict father, and most importantly, he is a former rocker. That is, he can be impressed only with musical talents. For this reason, Boyfriend will need to fight against her father as part of a musical battle. If you can win, then you can start dating her daughter. The game will take place in neon graphics, so it will become even more interesting than in the original. In this mod, you can also say that there are many new melodies.
How to play?
You will need to play FNF Neo Mod online, so you can start right now. We want to inform you right away that a full week will be available to you, so choose any day from those presented and start singing songs. You have a choice of 2 modes: practice mode and playthrough. When it comes to making you on the music stage, you will need to timely and accurately press the keyboard arrows that will fall from above. The latest version 3.0 has a lot of new features, so come on in and see for yourself.
Controls:
Keyboard arrows - sing songs
+- - volume