FNF Character Test Playground 3
Ratings:
7
(average
4.1
from
5
)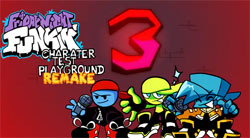 PLAY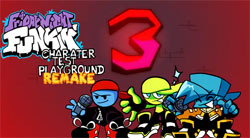 FNF Character Test Playground Remake 3 is a game in which you can build your own musical battle of famous characters that you like the most. In essence, this is a musical battles constructor, where various heroes that you know well are available, as well as popular tracks, backgrounds, and much more. If in regular Friday Night Funkin games you have to, as a rule, help Boyfriend do everything in order to defeat very strong musical artists. Most often these were opponents from very famous games, cartoons and many others. Creating a battle on your own is most likely the most important desire of many players, but there were no opportunities for this, but now there are, so get to work. By the way, you can even adjust the speed of the sounding music, so adjusting everything for yourself.
How to play?
In order to start playing you will need to select a game mode. We advise you to immediately choose the one in which you can design battles. Before you will be a famous character that you can customize. Click on the settings button, and there you can do whatever you want. Choose a hero that suits you, choose a beautiful composition, background, music speed, and other settings, and you can start the battle. The game fnf test 3 will definitely teach you the art of music, but only you must have a developed reaction. The fact is that to be successful you will need to press the arrows on the keyboard on time and accurately.
Controls:
Mouse - action
Arrows - sing songs