Purble Place Cake Maker
Ratings:
1
(average
5
from
5
)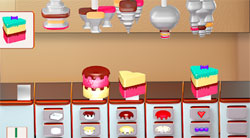 PLAY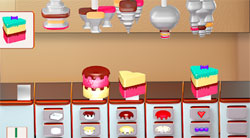 Interesting cooking game in which you will need to show your skills in cooking cakes. You will have the opportunity to prepare cakes with different fillings. From chocolate cakes to fruit and cream cakes. What could be better than eating a piece of cake with your tea? That's right - nothing, so sit back comfortably, because now we're going to make pastries. A huge variety of different ingredients can be used to make desserts, so we encourage you to take advantage of these opportunities. Play the game online and for free you do not need to download to your computer. Sometimes you will receive orders to make a cake for a birthday or a wedding, and this is a big responsibility. In every cake not only the taste is important, but also how it is decorated. You have a huge variety of different ingredients to decorate the cake, so use them.
How to play?
In front of you there are many products with which you will make cakes. Follow the instructions so that you get delicious products. It is important to understand that the further you go in this game, the harder it will be to make something more delicious. Try to experiment so that you get products of completely different tastes. The confectionery factory that you work in can be upgraded if you earn enough money.