Skibidi Toilet Creator
Ratings:
1
(average
5
from
5
)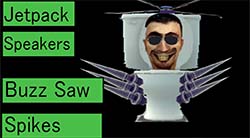 PLAY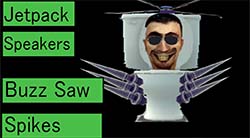 The game Skibidi Toilet Creator will definitely appeal to you, because it was created for creative people. Not so long ago, a character named Skibidi became very popular. The fame of this character started with the song Yes Yes Dop Dop. Then he became even more popular when a cartoon about him appeared on YouTube. There are already a lot of episodes, so you will definitely be interested to watch at least a few episodes. They are very funny and will definitely raise your spirits. In this game, which is located on this page you will have the opportunity to create your own character Skibidi. On this page is a game from the author greenaliengeneral. This version of the game has been recently updated to version 1.1, so you will be able to find even more different settings to create an interesting character. There are more than 8 types of customizations in the game, so you will definitely be able to find the ones you like the most.
How to play?
In the center of the screen will be located the main character of the game - Skibidi. Initially, he is simple and there are obviously no customizations applied to him. You will be able to click on the buttons that are located on the left and right changing some elements in the appearance of the main character of the game. You can add wings to Skibidi, add a Jetpack on his back, and put a speaker with music next to him. This is not all, you will also have the opportunity to wiggle a lot on his appearance. In addition to the previously listed settings you will be able to add a propeller to the hero, some weapons and much more.