Skibidi Toilets Shooter
Ratings:
1
(average
5
from
5
)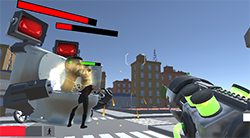 PLAY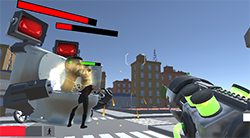 Skibidi Toilets Shooter - a very interesting game for those who love shooters, as well as following new characters on the Internet. Very recently on YouTube appeared cartoon that consists of 48 episodes. In the main roles of this interesting cartoon will be the same Skibidi. You may remember him as he performed a very famous song on the Internet called - Dop Dop Yes Yes. The protagonist of this game looks very strange, because in fact it is an ordinary toilet bowl, and from this toilet bowl is sticking out a male head. Developers of new characters on the Internet have become very creative lately, so you will definitely remember the acquaintance with Skibidi. In this game you will need to help the player with the help of weapons to destroy as many Skibidi as possible. All the events will develop in the city, so walk along the streets and you will meet huge size toilet bowls. Looks the whole gameplay is funny.
How to play?
In order to start playing you will need to click on the start button. After that you will appear in the city where all the main events of this shooter will take place. You will have a great opportunity to develop your main character. You can help improve his strength, speed, as well as other indicators that are very important. Buy yourself new weapons. These weapons you can buy on the money earned. For each successfully completed mission you will receive certain funds. On the screen you can see the scale of your life, so be careful not to be destroyed by Skibidi before time. If you will have few lives, then look for a first aid kit in the city.
Controls:
Arrows - walk
Mouse - shoot and aim
C - crouch
Q and E - change weapons
1-3 - weapon types