FNF vs Skibidi Toilet
Ratings:
1
(average
5
from
5
)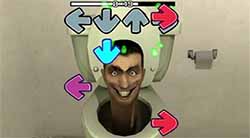 PLAY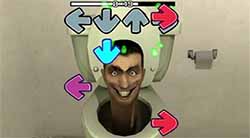 FNF vs Skibidi Toilet - an interesting online mod on the theme of Friday Night Funkin in which you will have to fight against a strong opponent. As before you will play as a legendary musician named Boyfriend. Oppose you this time will have to a very strong opponent named Skibidi. He is very popular on the Internet, so it is not surprising that he appeared in such a famous game as FNF. On the topic of Skibidi was even created YouTube channel on which appeared already more than 48 episodes of cartoons. There is no doubt that the cartoon on YouTube breaks records of popularity. The main character of the mod that is located on this page was previously known by the song with the name Dop Dop Yes Yes Yes. It will be very interesting to see what is in a rap battle this famous hero. Your task is to skillfully and timely press the keyboard arrows to hit the beat of the song that sounds.
How to play?
The gameplay of this game is very simple so you will just need to press the arrows on the keyboard and you will have a chance to win.  In order to start playing you will need to choose the game mode: free mode or play through. Of course you will need to choose the level of difficulty of the gameplay. It can be easy, medium, or difficult level. On the screen during the gameplay you will see a strange man's head that looks out of the toilet. It looks very strange, and it's hard to say who came up with all this. Arrows will fall on you from above, and you will have to click on the same arrows on the keyboard in time. The song you will sing is called Porcelain.