Skibidi Toilet Minecraft
Ratings:
1
(average
5
from
5
)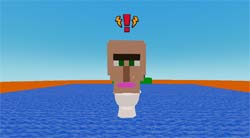 PLAY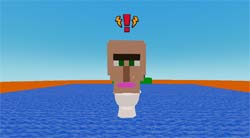 Skibidi Toilet Minecraft is a game that combines two famous gaming trends at the same time. In the huge pixel world the legendary singer of the song Skibidi Dop Dop Dop Yes Yes has appeared. You may have known him, because he was more famous before. Minecraft has been on the rumor for more than 10 years, so this creative game, where you need to build buildings is even unnecessary to imagine. In this game you will play as Steve who earned popularity in minecraft. The game is made in the style of parkour. That is, there will be lava around, and you will need to jump on the blocks to avoid getting into this lava. There are a lot of missions in the game, so choose level number one and start the gameplay. In order to move around the pixel blocks you will need to jump hard. Use the space bar button to skillfully jump over the lava. If you accidentally fall into the lava, the mission will end and you will simply die. Skibidi will be waiting for you at the end of each mission.
How to play?
In order to start playing you will need to choose the first level. Now you are required to maintain good coordination in order not to fall into the abyss. It is important to realize that the further you get, the more difficult it will be for you to perform tasks. In the game you will be able to select English in the menu to be clear what is written. Be as careful as possible during the game, because difficulties will be waiting for you anywhere.
Controls:
Spacebar - jump
Arrows - walk