Skibidi Toilet Rampage
Ratings:
1
(average
5
from
5
)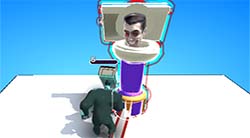 PLAY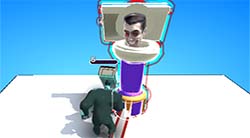 Skibidi Toilet Rampage is a new game on the theme of a popular meme in which a man's head is sticking out of the toilet. Very strange characters have recently become popular on the Internet. This Skibidi became popular not so long ago due to the song Dop Dop Yes Yes Yes. You can also note the fact that about Skibidi Toilet was released a cartoon for 48 episodes, which is on YouTube. You have to play for the protagonist of the game whose name is CameraMan. He looks like an ordinary man in a jacket at which instead of the head is attached camera. You in this game is very clear task - to get to the finish line. Obstruct you on the way will be a large number of different Skibidi Toilets. They will be of different sizes and each of them is endowed with very different skills. Some can shoot lasers and some can shoot shit out of a toilet. Your path will be difficult, but you will definitely be able to overcome it.
How to play?
The gameplay of this game is very simple, because you will need to take control of Kameraman and help him get to the finish line. You will be hit by various projectiles, weapons, laser and other nuisances. This is a real invasion of toilets, so you will need to do everything to defeat them. Use different methods to sneak to each particular mission to the finish line. After every 5 missions you will be waiting for a boss in the form of a huge toilet with a man's head. Try to complete each mission as fast as possible in time.