Speaker Woman Skibidi Toilet
Ratings:
1
(average
5
from
5
)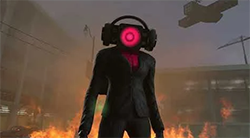 PLAY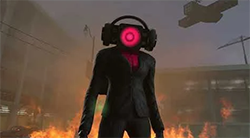 Speaker Woman Skibidi Toilet - welcome to a very interesting game where you will have to fight against the girl Cameraman. Her name is Speaker Woman and she has about the same skills as her boyfriend. The difference in their appearance is that she has a pink colored camera instead of a head. So you could say she looks more feminine. In her behavior there is anger and aggression, so you will have to try to do everything to destroy her. Keep in mind that if you act ineptly, you will be destroyed. Active actions in this game will take place somewhere in the city. There are houses, cars, and many other things around, so you will be able to hide from Speaker Woman's attacks. In order to destroy all the enemies that will attack you you will need to use firearms.
How to play?
The gameplay is very simple and interesting. You will need to navigate the map to understand where the enemy is at the moment. He will be marked on the map with red dots. You will be labeled with a green dot, so you will be able to understand where you go, and where it is better not to go. Very pleased with the fact that you will have weapons in your hands, because in case of difficulties you will be able to destroy the antagonist of the game. In the game there will be a lot of missions that you will have to easily pass. The further you get in the story, the more difficult it will be to pass the mission.
Controls:
Mouse - aim and shoot
Arrows - movement