The World's Hardest Game
Ratings:
1
(average
5
from
5
)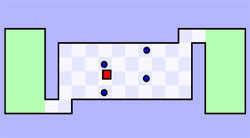 PLAY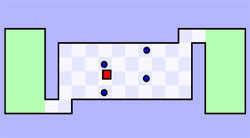 Do you have any idea what is the hardest game in the world? You will never guess, because this place of honor in the rating of games is occupied at first glance by a simple game. True, it may seem so only at first glance, but if you play it, you will find that it is incredibly difficult. In total in the game you will need to go through 30 levels of varying difficulty. Of course, that each of them will give you a lot of trouble, but at the same time, you will be passionate about the gameplay. Each level is a complex geometric construction in which you will play as a red square, which has to go through difficult obstacles and reach the finish line. You have an unlimited number of attempts to reach your destination, but the fewer lives you spend, the better for you.
How to play?
In order to play The World's Hardest Game online, you will need to select a level and after that you will be on the playing field. Your main character will be the red square, for which you will play. The path starts from a green field, and your task is to get to the same green field. Between these fields there will be difficulties in the form of red circles that will do everything to kill you. While moving, you will need to collect yellow circles, which are a bonus when you complete each mission.
Controls:
Keyboard arrows - movement