FNF VS Sky Remanifest
Ratings:
1
(average
5
from
5
)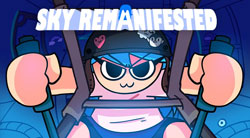 PLAY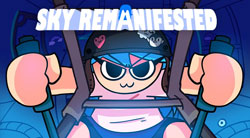 It seems to be not so long ago, this cool game called Friday Night Funkin was developed, and now we can say that a year has passed. Here is the Anniversary Game, and we can safely say that there are many pleasant surprises waiting for you here. Here you can perform 3 new songs that have such names as: Wife-Forever, Heaven and Manifesto. Finally, Girlfriend will sing for the first time, and already at least it's interesting. If earlier she was just a cheerleader, now she will try to show her abilities musically. We advise you to play at all levels of the game, because these are essentially different weeks. That is, in fact, you will have access to a full week. It is important to understand that without a good reaction, you will not be able to win the musical battle, so it is important to try.
How to play?
In order to get started, you will need to click on the start button. Next, 2 modes will be available: for the passage and FreePlay. We will immediately inform you that 7 more new songs will be available in FreePlay mode, which you will skillfully perform, competing with each other. All battles can be customized, to do this, click on the gear and adjust the settings that interest you the most. If you are playing on the passage, then there you will sequentially need to fight with various opponents with excellent skills in terms of singing. In short, the FNF VS Sky Remanifest mod contains a lot of interesting innovations that will definitely please you.
Controls:
Arrows - sing songs
+- - volume