Undertale Papyrus Fight
Ratings:
11
(average
4.2
from
5
)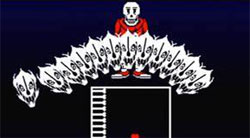 PLAY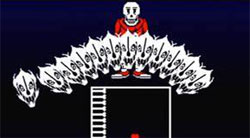 Here is a cool simulator called Undertale Papyrus Fight, in which you will have to fight against various monsters in the dungeon. According to the plot, it so happened that you ended up in a dungeon. It happened completely by accident, so you could not even look back how this could happen to you. Walk through a strange area, communicate with unknown monsters and creatures that will meet on your way. It is very important to carefully read the lines that you will be told, because this can greatly change the course of the plot. We all know the famous game called Undertale where the main antagonist was Sans. Today you will meet Papyrus, who is the brother of Sans. He is a skeleton that looks very intimidating.
How to play?
It all starts with the fact that your main character will walk through an unknown area and communicate with different monsters. After that, sooner or later you will meet with Papyrus, with whom you will have to wage war. There are several different scenarios in which the battle with papyrus can go. It can be 4 different scenarios, so choose the one that seems most correct to you. During the battle, you will control a small red heart.
Controls:
Arrows - control
Z, X - select