Vex 5
Ratings:
1
(average
5
from
5
)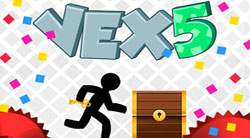 PLAY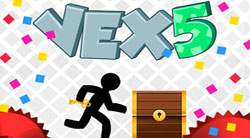 An addictive game called Vex 5 in which you will need to help the main character perform many different difficult tricks. You will play as a legendary stickman who is essentially a cartoon character. Your main task is to get through difficult sections of the road to the finish line of each level. During the passage of each level, you will need to run, jump, overcome spikes, and of course not fall under falling stones on you. On some sections of the road, you will definitely meet bombs lying on the floor. There are actually a lot of obstacles, so you will need to show your best qualities, namely agility, speed and good reaction. The game is finally unlocked, so you can easily play it online without a flash player. This is an extended version of the game, where all additional levels are available.
How to play?
To start playing, press the start button. After that, you will have a list of levels. Only one level is immediately available, so choose it. Your goal should be to open subsequent levels that are now closed. After that, you appear on the playground, where there will be parkour classes. During the passage of the level, you will need to collect gold coins that are scattered everywhere. Also in the location there are places where you can find useful bonuses that will help you in passing a difficult section of the road.
Controls:
Arrows and A, S, D, W - control the stickman.