Pico Park Classic Edition
Ratings:
2
(average
5
from
5
)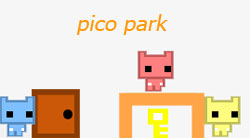 PLAY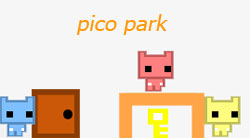 An exciting game pico park classic edition that hundreds of thousands of players from all over the world love to play. In this game, you will need to do everything to help the cats get through difficult sections of the road. The main goal of these fluffy beauties is to get to the door. Of course, the path can be very difficult, so try to walk it with dignity. The game has pixel graphics, but this is done on purpose, because it will be much more interesting to play this way. You won't be able to play this game alone, so invite your friends to play by helping each other. The difficulty of each level lies in the fact that obstacles will be placed everywhere, if you do not pass them, you will have to die, and for this reason you will have to start over.
How to play?
Before you start playing, you will need to choose how many cats you will control. It can be absolutely anything, but no more than 8. Each little character is a different color, and it looks very nice visually. Next, you will need to decide on the game mode in which you will play. For example, in the first level, you will have to do everything to jump over the bomb, and then over the cliff, and thus get to the door.
Controls:
1 player - keyboard arrows
2 player – a,s,d,w
3 player – j, k, l ,i