Sans vs Chara
Ratings:
5
(average
4.2
from
5
)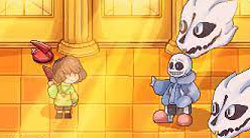 PLAY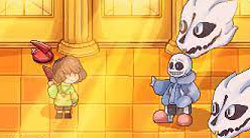 Strange things are happening in the dungeon world from the Undertale game, and few people really know what they are. This game lets you glimpse one of the famous Sans vs. Chara fights. Active game events will take place in an underground, but illuminated building. Sans is a small skeleton. Chara is a child and is one of the most recurring characters in Undertale. The game is designed for more than two players, so call a friend to keep you company and start the fight. Each hero has magical abilities of great strength, so it is important to use this advantage, otherwise the enemy will destroy you. In this game, you will walk through the dungeon and sooner or later you will meet a terrifying skeleton against which you will wage a real battle.
How to play?
In order to start playing you first need to click on the start button. After that, two main characters appear in front of you, for which you will play. It will be most convenient to play when you have a friend next to you, because the game is for 2 players. From top to bottom, various types of weapons will fall, which you can use in the battle against your opponent.
Controls:
1 player - arrows
2 player - a, s, d, w
1-9 - the use of magic and the use of auxiliary items.